GAZETTE NAME CHANGE AFTER DIVORCE:
Call : 022-23734638 / 23708196 OR download Form  Here for Name change in Gazette after your DIVORCE
Tough and frustrating experience for a single woman going through a divorce specially if she is changing her name from Married to Maiden name. Names have to be changed in Pan card, Adhar Card, Driving license, Passport, Election card, Banks etc. Every Department that you visit you are requested to bring a Name Change Gazette Proof 
Now www.dgps.maharashtra.gov.in  or dgps.maharashtra.gov.in has made the process easy for the divorced woman  to publish name change in gazette after Divorce.
Sample copy of  NAME CHANGE GAZETTE AFTER DIVORCE approved by DGPS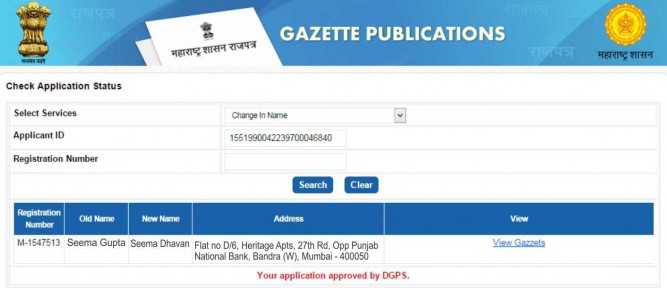 JUST FILL IN THE FORM BELOW AND WE SHALL BACK TO YOU WITHIN FEW HRS. OR CALL US ON  022-23734638 / 23708196 / 88 88 33 73 73
Name Change Gazette Form to be filled After DIVORCE
Documents to be submitted for Name Change in Gazette:
Name Change in Gazette after Divorce.
Name change after Divorce in Gazette is a common requirement for women who get Divorced or who wish to remarry.
YOU are entitled to 2 FREE  ads in Newspapers for Name change after successful completion of Name change in Gazette after Divorce, If you are a Resident of Mumbai.
Following are the documents to be submitted for name change in gazette after marriage
Photo ID : Pancard, Driving Licence, Passport, Election card………… (Any one)

Present Address proof : Ration card, Aadhar Card, Electricity Bill…… (Any One of Self OR Father Or Mother or 2nd Husband)

Passport size Photograph (Only 1 scanned) 

Divorce Decree OR Affidavit Copy

Application Form to be downloaded from Above. Fill it, sign it, scan it and email it to us at gazettebooking@gmail.com