Change of Name in Passport
Passport Office has made it compulsory that all applicants changing their names should publish a Change of Name Advertisements in 2 Newspapers. Change of Name in Passport for Kolhapur cost 400/-  What is the Procedure for Name change ad? What are the Formalities for Name change ad? Lets Analyse one by one

 There are variety of reasons for which people usually change their Names. Lets list a few of the reasons for Name Change.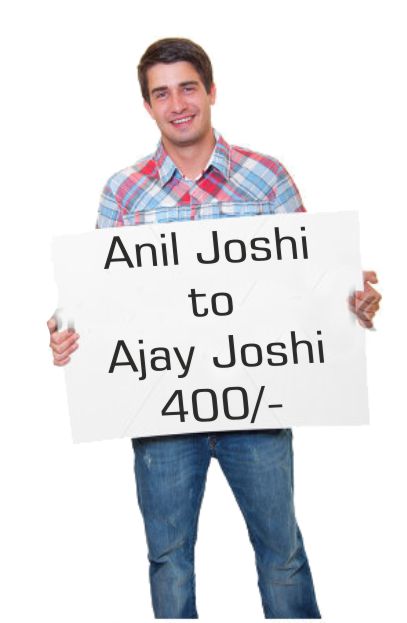 Change of  name (because you don't like it)

Change of religion from x to y

Spelling error in your name 

Want to shorten or lengthen your name

Changing your surname

Change of caste

Change of name after Marriage

Change of name after divorce (Going back to maiden name)

Name in Birth certificate does not match with the leaving certificate

Change of name in Passport
---
The Procedure and the formality for Name change advertisement is very simple it just requires a 2 Step Process.

The 1st is to have a Corrected Self attested Photo Identity Proof like Pan card or Adhar card etc and the 2nd Process involves Publishing a Name change advertisement in 2 Newspapers.  If you have the Self attested Photo ID ready you may start booking the ad Below

NAME CHANGE  PROCEDURE
As discussed earlier change of name advertisement in newspaper for passport is a very simple Process and the booking takes hardly 10 min.  Follow the steps below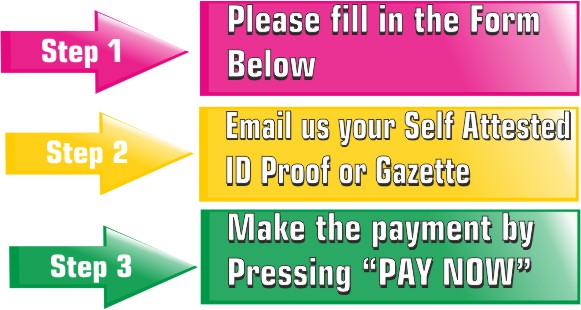 NAME CHANGE AD SAMPLES
(AS Per Standard Format at Passport office)
I have changed my name from PRAVIN BHAWARLAL KOTHARI to PRAVIN BHANWARLAL JAIN 
I have changed my name from vikram Aditya Gokhale to Vikram Aditya Pancholi as per the documents
(On the basis of Maharashtra gazette)
I have changed my name from Jeffin John to Jeffin John Palatty as per Maharashtra Gazette No.(X-111680)
I have changed my name from Jayantibhai Babulal Gada to Jayantilal Babulal Gada as per Maharashtra Gazette (X-44336)
 (If Its a Minor)
We (1) Mr.mohammed Aslam Husain Babi  & (2) Mrs. Hina Kausar Mohammed Aslam Babi Have Changed Our Minor Daughter's Name From   Amira Mohammed Aslam Babi To Taiba Mohammed Aslam Babi 
We (1) Ashok  Dinesh Kamble and Seema Ashok Kamble have changed our minor child's name from Vinayak Ashok Kamble to Amit Ashok Kamble as per the documents.
NAME CHANGE ADVERTISEMENT FORM
FREQUENTLY ASKED QUESTIONS (FAQ)
Q. When will the ad be Published ?
A. If the Payment and Affidavit reaches us by 11.30 am the previous day the ad gets published the next day.
Q. In which newspapers does gets published ?
A. Ads get Published in Times of  India and Maharashtra times. You need to buy min 3-3 copies of each newspaper for Name Change advertisement.
Q. Will I be facing any problems at the Passport Office?
A. No Sir, we have been placing ads since the last 20 yrs. The newspapers are all reputed and are always accepted at the Passport Office.
Q. How do I get the Newspaper Copies?
A. We inform you 24 hrs in advance before the ads gets published. so you have sufficient time to buy the newspaper copies.
Q. What if the ad does not get published. I am afraid etc?
A. This has never happened. Your Payment is safe with us. You can even cancel the ad anytime prior to booking. However Just Provide us your Order ID no. and email it to us at classic_advt@hotmail.com and get 100% money refunded Back. Only 50/- shall be deducted as transaction charges.
Option to make payments through Debit card, Credit Card, Net Banking, Free Charge, Paytm, Mobikwik etc