GAZETTE NAME CHANGE
Thanks to dgps.maharashtra.gov.in Online Booking of GAZETTE NAME CHANGE in Maharashtra is Now Simplified. Call : 022-23734638 / 23708196 / 8888337373. Or simply log on to www.dgps.maharashtra.gov.in Download Application FORM from below for Name Change Gazette for MUMBAI and MAHARASHTRA.

Gazette Name change Online Application  form            : Download
Gazette  Date of Birth Online Application  form            : Download
Gazette Online Change of religion form                          : Download
Procedure to publish your name change in Maharashtra Gazette given below through dgps.maharashtra.gov.in / www.dgps.maharashtra.gov.in / https://aaplesarkar.mahaonline.gov.in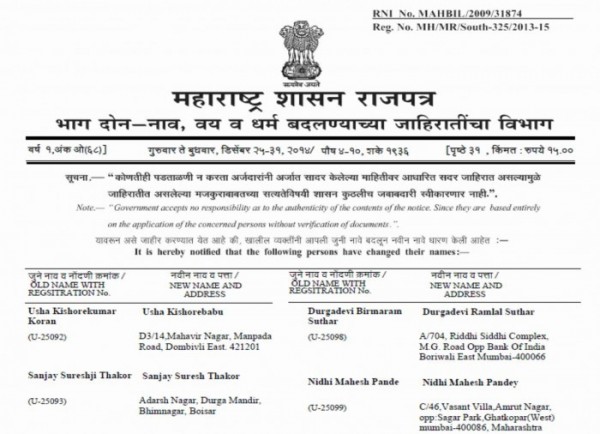 Online Application for
Name change Gazette Online :
GAZETTE NAME CHANGE CAN BE EFFECTIVELY DONE THROUGH ONLINE BOOKING. just log on to www.dgps.maharashtra.gov.in or log on to dgps.maharashtra.gov.in
Register yourself with New Login userId and Password for e gazette

Opt for Change of Name/ Change of date of birth / Change of Religion. 

You may choose for minor / Open / Backward class

Upload all necessary documents including your photograph

Make payments online and get your gazette OR kindly download the user manual 

here

 

For Help dial

022-61316400

(Gazette Mahaonline Office Helpline)

For complaints / grievance about E gazette online log on https://suvidha.mahaonline.gov.in/Forms/Complaint_Reg.aspx
The Gazette department (dgps.maharashtra.gov.in) has made the process simplier However if you need our help We Offer services for Urgent Name Change in Gazette online for 1195/-

(Which includes FREE NAME CHANGE ADS IN 2 NEWSPAPERS worth 375/- in Mumbai)

. The Process takes 10-15 days and

2 copies of the gazette are couriered to you. Also the Pdf file is emailed to you so that it remains with you forever.
"Just Fill in the e Gazette online  form. Send us the documents mentioned Below and we shall get back to you  within  few hrs. OR Call us on               022-23734638 / 23708196 / 8888337373"
GAZETTE ONLINE BOOKING FORM
Just Fill  the Form Above & Email us
Photo ID : Pancard, Driving License, Passport, Voter ID….(Any one)

Present Address proof : Ration card,  Aadhar Card, Electricity Bill…..(Any One) 

Birth Certifcate OR Bonafide Certificate (

Applicable for Minors below 18

)

Passport size Photograph 

Download Application Form from top of the page Fill it, & email us with all documents from S.no 1 to 5 at : gazettebooking@gmail.com
Publish  your name change in  gazette  online in Mumbai and all over maharashtra in the following Circumstances. 1 ) Change of name 2) change of date of Birth 3) change of religion all of which can be done through dgps.maharashtra.gov.in

Change of name in Gazette : This is a very common requirement used in  a variety of different circumstances like
Name change Gazette  after marriage

Name change Gazette after Divorce

Name change Gazette For LIC, Banking, Property issues

Name change Gazette for Minors, for School / College admissions,

Name change Gazette for changes in Pancard/ Aadhar card

Name change Gazette for  Ration card / Office or Company records etc
Date of Birth change in Gazette online : A very common problem specially at the passport offices, usually some people have different dates of birth in Birth certificate and leaving certificate Or pan card etc. this can be easily rectified by publishing in the gazette online.  You just need to have the Original Birth certificate xerox Or a leaving certificate to publish it in Gazette online.
Change of Religion in Gazette online : People change their religions due to variety of reasons and the Maharashtra Government Gazette makes it Official by publishing it in the Gazette. A disclosure of change of religion in gazette becomes essential in the later stages of your life for all official records
We also publish Change of Name ads in Newspapers for Mumbai for as low as 375/-  and for rest of Maharashtra for 425/- only for more details click here
Dgps GAZETTE Mahaonline RELATED QUESTIONS AND ANSWERS
Q) Can you help me with the name change gazette online documents required ?
A) You may just fill the Gazette Name change FORM from above.  A Complete list of  Name change gazette documents required shall be emailed to you on your email address within 60 Secs along with the Gazette application form, A Sample Gazette and readymade filled in Gazette online form to guide you how to fill in the gazette application form.
Q) What is the Name change Procedure for Maharashtra gazette booking and how long does it take?
A) The Procedure for Gazette name change in Maharashtra takes around 10-15 days. The Documents need to be submitted first. Our team checks the name change documents within 2-3 hrs and suggests changes/ rectifications required for smooth approval of the dgps Maharashtra Gazette online.
Q) How will the Name Change Gazette come? How do I get my Name change gazette status ?
A) Name change in Gazette usually comes on Saturdays. The Dates are informed at the time of booking. Once the Name change Gazette arrives, immediately a Pdf file is emailed to you. Do check your email on the dates mentioned for dgps Maharashtra Gazette.
Q) Do I need to download the maharashtra government egazette from somewhere?
A) Relax. We generally email the egazette Maharashtra  to you as soon as the egazette arrives.
Q) Does the dgps Maharashtra Gazette carry a Stamp or Signature ? Can you show us a sample Gazette copy? 
A) The format of  dgps Maharashtra Gazette copy has remained the same since the last 25 years. It only carries the Old Name, the New Name, the Registration no and the Residential Address. A sample Gazette online copy can be downloaded from here
Q) Do you send physical copies of the dgps Maharashtra Gazette?
A) YES we deliver physical copies by courier. Physical copy of the Maharashtra egazette change of name is basically a printout of the 1st page and the page on which your new name has been published. 2 copies of the dgps Maharashtra Gazette printout are couriered to you through vichare couriers all over  Mumbai & for residents outside Mumbai we Deliver the copies through registered Post / speed post / courier .
Q) Is the Name Change ad Compulsory ? In which Newspaper is the Name change ad Published ?
A) The Name change ad is FREE but not compulsory. It may be requested in schools / colleges  in case of change of name error in birth certificates etc, It can also be submitted at the passport office as a valid proof for change of name.
The Name change advt shall be published in Afternoon (English Newspaper) & Mumbai Mitra (Marathi Newspaper). Kindly note Newspaper ads are FREE only for the residents of Mumbai. For Residents Outside Mumbai charges shall be 425/-
Q) When will the name change ad  publish? what if I want extra newspaper copies ?
A) Once the Name Change egazette Notification is Published on Saturday. AD is published on  the subsequent Monday only for Mumbai Residents. The Dates of insertion is informed in advance through email. we send 2+2 complimentary copies to our customers. However you are free to buy as many copies as you want from your end.
Q) When will I receive the Name change Gazette through courier ?
A) 2 print outs of the gazette and 2+2 Complimentary newspaper copies of Afternoon and Mumbai Mitra shall be couriered to you, the time taken is approximately 48 hrs from the day the ad appears.
Q) What if I am not at home. Will the courier guy call me on my cell number?
A) We would appreciate if you give an address (Home / Office) where someone is available between 10.00 am to 6.00 pm to receive the copies. The end Courier guy WILL CALL ONLY IF THE ADDRESS IS NOT REACHABLE. If the Flat / Office is found closed the courier shall return back to us. You may safely pick up the courier from our office within 15 days or pay an additional fee of 50/- and request for a fresh courier at gazettebooking@gmail.com. The returned courier shall be resent back to you.
Q I have made the Payment for Gazette Mahaonline But I wish to cancel it? Is there a chance?
A. Once a name change Gazette is booked through us it takes anywhere between 30 min to 48 hrs for the actual egazette booking to take place. You may always check with our team and confirm on 88 88 33 73 73 / 88 88 33 73 71. If the same has not been booked the entire money is refunded back to you. However a cancellation charge of 100/- shall be applicable.
Q How do I change my Name in Gazette after Marriage? 
A. The Process for change in Name in Gazette after Gazette  is the same in most of the cases. However for complete details to apply for marriage gazette and the procedures involved along with download form can be checked from here.  We have highlighted detailed procedure along with the documents required for safe approval of Maharashtra gazette without rejection. 
Q Do you make Gazettes for Minors too ?
A. Yes we do Gazette for Minors for School admission due to error in Birth Certificates or some documentation errors. There are also cases wherein name change of the minor child is done due to mothers divorce. The documents required are slightly different, the same can be checked from here 
Q. I have recently been Divorced and  wish to retain my Maiden Name in Gazette?
A. We get a number of cases wherein Divorced females wish to make changes in their names post Divorce for themselves and even for their kids. We have an excellent team which handles divorce cases. however you may fill in the application form from here. We shall be sending you sample Gazette showing how the Maharashtra Gazette looks like plus we'll send you sample Gazette forms to guide you how to fill in the Application form.
Q. What are the gazette online charges. And How to make payment for Gazette charges?
A. The Gazette online charges have changed in 2014 and than again in 2017-2018. However for the latest Gazette charges you may call on 8888337373.